The Band
By
Audrey Hicks - Vocals & Guitar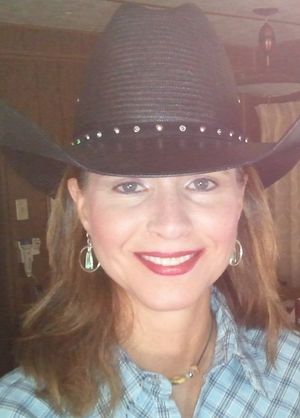 Audrey Hicks, an Arizona native, is the last born of three girls. Early on, Audrey showed signs of creativity. From making drawings and going door to door selling them to singing from the top of her lungs while playing out doors.
Audrey's musical journey began in elementary school first playing the French horn.  She apparently didn't show much promise as the instructor asked her mother if there were any other instruments she may want to play.  He mother chose the flute, as Audrey's other sister, Jennifer, was already playing this instrument. Audrey played the flute all through elementary school, Junior High School, and into High School.  That would later be upgraded to the piccolo due to its ease of playability and higher pitch.  
Although she never sang in a school choir, she did sing with her church choir throughout her childhood and young adult years. During the mid 90's Audrey began singing in a duo with a friend. They named their duo 'The Cat's Meow'. Audrey sang some lead, but mainly provided harmonies. This duo played at many coffee shops and folk venues around the valley. They even played two years in a row, at the Jimmy Dean Country Showdown, located at the infamous Mr Lucky's. Cindy, the other half of the duo, decide to build on the group and brought in a drummer and another guitarist. This is when Audrey realized she needed to play guitar if she ever wanted to sing on her own.
It wouldn't be until years later that Audrey would answer a newspaper AD looking for a lead female vocalist for a very successful country band, Urban Country. She sang with Urban Country off and on for approximately three years. They played all over the valley.  Her fondest memories were seeing the band's name on the marquis at the Museum Club in Flagstaff, Arizona and playing the Glitter and Glow festival and Chocolate Affair in Glendale, Arizona.  She would eventually leave the band to pursue a career in massage therapy.
After she successfully finished board certification and became a Licensed Massage Therapist, she was asked by two previous members of the Urban Country Band, to start up a new project.  This band became 'The Breakaway Band'. They also played all over the valley.
The one thing we forgot to mention about Audrey, is that she dabbles in song writing. In 2015, a song Audrey wrote, Gone So Soon, would be included in the soundtrack, The Sparrow, Now and Then.
Some of Audrey's musical influences are Pat Benetar, the Eagles, Lady Antebellum, Sugarland, Trisha Yearwood, Maren Morris, Mary Chapin-Carpenter, Kacey Musgraves, Fleetwood Mac and so many more!
Carl Franklin - Vocals & Lead Guitarist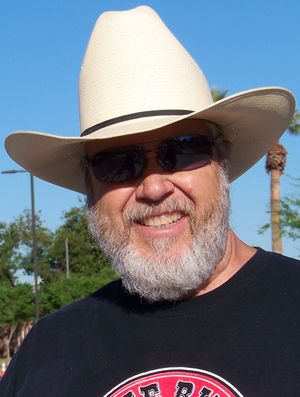 Carl started out with a Dad that played in Country Bands for Years!  He started performing professionally with a Band called The Ghost Ryders in Japan while stationed there as a Military Policeman with the Marine Corp!  He grew up on Merle Haggard, Buck Owens, Ray Price, and many more.  He later picked up on the Outlaw movement with Willie Nelson and Waylon Jennings!  He has been in Arizona most of his life and loves picking his Guitar and singing for the many fans of The Sierra Outlaws!  
Phil Koffman - Bass Guitar & Vocals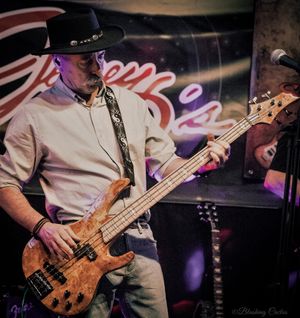 Phil Koffman started on his musical journey with piano lessons at five years of age and moved on to saxophone in the fourth grade through high school. With the encouragement of the high school band instructor he started playing bass guitar and has been at it for many years.
Through the years he has played Rickenbacker and Hofner basses and a Les Paul six string, but his collection now includes an LTD RB1004, Ibanez SDGR400, LTD Thinline, and a Fender Pro P-Bass, all through a Shure wireless system.
Phil has gone through a variety of Fender and Ampeg amps over his career; he's currently relying on a Fender Rumble 500 amp.
Rob (Smootchie) Chanez - Drums
Rob, is a transplant from Alamogordo, NM.  Rob began his endless love affair with drums and live performer as drummer/percussionist at the age of 12 in elementary school, learning the basics and learning to read music.  Throughout school, Rob was involved with concert and symphonics bands, marching bands and jazz and show bands.  Although self-taught on the drum kit, Rob picked up his first professional country band at the age of 15, with the country band The White Mountain Band, which played the service clubs and the Air Force Base clubs of the day.
Putting the sticks away, Rob enlisted in the U.S. Navy, and found himself in Western Australia.  Rob had a chance opportunity to play a few songs for the touring USO band "Entourage" in Exmouth, Western Australia, which rekindled the desire to live out the dream of being a professional musician.  After being honorably discharged from the Navy, Rob finds himself back in New Mexico and quickly joins up with Country Bands Timberwolf, County Line, Son Huffmon and The Western Effects.  Rob also started performing with the local music theater organization, The Alamogordo Music Theater in the productions of Jesus Christ Superstar, Best Little Whorehouse in Texas and Into the Woods.  During this time Rob started recording with Roundsound Studio owner and guitarist Doug Gibson and performed several outdoor events with Doug's studio band Greenbroke.  Doug recorded and co-produced County Line's debut album "Easy Money".  While playing in New Mexico, Rob was fortunate to play all over the state, a brief run of county fair circuit gigs, private gigs in the historic town of White Oaks and No Scum Allowed Saloon.
Moving to Arizona in 2006, Rob quickly picked up a gig with the classic rock band Hard Knox, which lead to gigging with the classic/hard rock band High n' Tight.  Shortly thereafter, Rob picked up the opportunity to play with original outlaw country artist A Boy Named Sioux which lead to playing with a hometown friend Bill Bennett and his country band Red Canyon Band and Randy Wade and the Renegades.  After a little dry spell, Rob picked up with the oldies band Midnight Confessions, Still Cruzin, The Reflectones, Legacy, The Weekend Squires, and a little resident time with The Eddie Joe Clark Band.   Now, as of this moment, Audrey Hicks and The Sierra Outlaws is now called home and so far, the reception has been warm and accepting.  The timing is perfect.